Steve has been fishing from Watchet Harbour since accompanying his father as a child initially aboard a 14' open wooden boat. Whilst at Technical College Steve became licensed and offered trips round the bay aboard his fathers latest small boat.
Whilst Steve remained busy during the summer holidays with trippers it was the constant request for angling trips that encouraged him to try it full time - Initially just for a year between college courses.
It was an uncertain venture as Watchet had never before offered a professional charter fishing boat. In 1982 Steve purchased his own 21' boat (Miranda) this soon to be replaced in 1983 with a 26' boat (Miranda II). An offshore 32' (Scooby Doo) was purchased from Sutton Harbour, Plymouth during 1989 and was replaced in 2000 with Scooby Doo Too.
Over twenty years later the college application forms still remain filed.
Steve is a member of the Professional Boatman's Association and also the National Federation of Charter Skippers.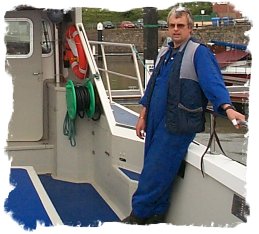 Steve Yeandle - Skipper